SERPENTINE is organizing a user workshop on
September

5–9

at Christian-Albrechts University in Kiel, Germany.
 Participants of the workshop, primarily students and postdocs, will attend a variety of presentations and hands-on work to get familiarized not only with the aspects of the physics of solar energetic particles (SEPs) but also and in particular with the available data sets and software tools to analyse SEP events.
The workshop will be organized on 5–9 September, the sessions starting in the morning of the 6th and ending at lunch time on the 9th. The first two to three days of the meeting concentrate mainly on the tutorial sessions on SEP events and the tools for their analysis developed in the project. The remainder of the meeting will concentrate on the first scientific results of the SERPENTINE project. Social programme consists of a welcome reception in the evening of 5th and a barbecue at the University campus on 7th.
The workshop is open to all users interested in understanding of or working with SEP events and free of charge.
Graduate students currently enrolled in astrophysics or space physics, planetary sciences, space engineering or a related field are very much welcome, and limited funds are available for free accommodation and daily allowance to cover local expenses.
The selection of participants is on the first come first serve basis, and financial support for local costs will be offered on the same basis for participants fulfilling the criteria of being students or young researchers. In addition, travel support can be arranged for a few cases based on applications.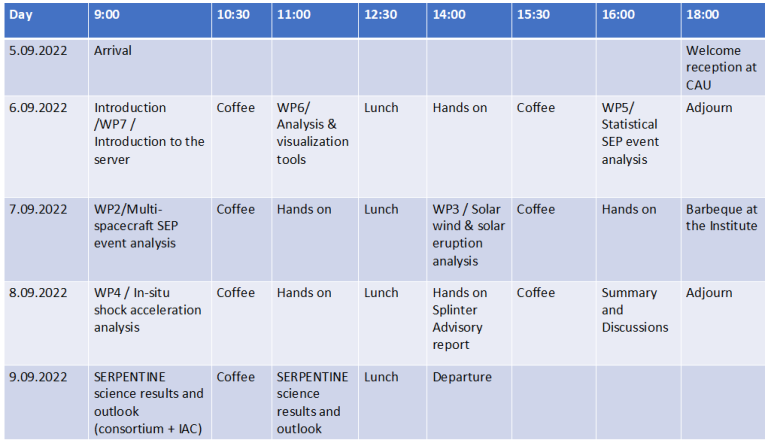 Register by sending an email to heber@physik.uni-kiel.de.
If you do not wish to ask for financial support, it is enough to provide your full name and affiliation, your email address, and your dates of arrival and departure.
If you wish to make use of the financial support on-site, provide a short CV showing that you qualify as a young researcher. If you apply also for the travel support, include a justified request of the amount you would need to be able to participate the Workshop.